The Climate Gallery is a non-profit virtual reality gallery featuring multi-medium pieces from a diverse group of climate-focused artists. We showcase art and artists who dare to combat the climate crisis. Find out more and explore the galleries
here
.
Sponsored & supported by:

Live conversations. Unique perspectives. Available anywhere!
Climate change is a global issue and our work and conversations need to reflect this. That's why we're using VR. We've discovered ways to make VR more accessible and more engaging than video calls or other single-sided conversation platforms. Attendees are able to freely explore artists' works and interact with other visitors via any web browser or get closer to the action with a VR headset – regardless of geographic boundaries. 
MY ROLE
Inspired and driven by my thesis on the relationship between climate activism and Virtual Reality I was ecstatic to work as the lead VR designer for The Climate Gallery.
I was in charge of building out the gallery spaces and working one-on-one with each artist to curate and translate their art into a virtual medium.
Additionally, I assisted with the development of the gallery's overall branding, user testing and hosting of live artist talks within the galleries. The final base gallery design and brand guidelines are shown below.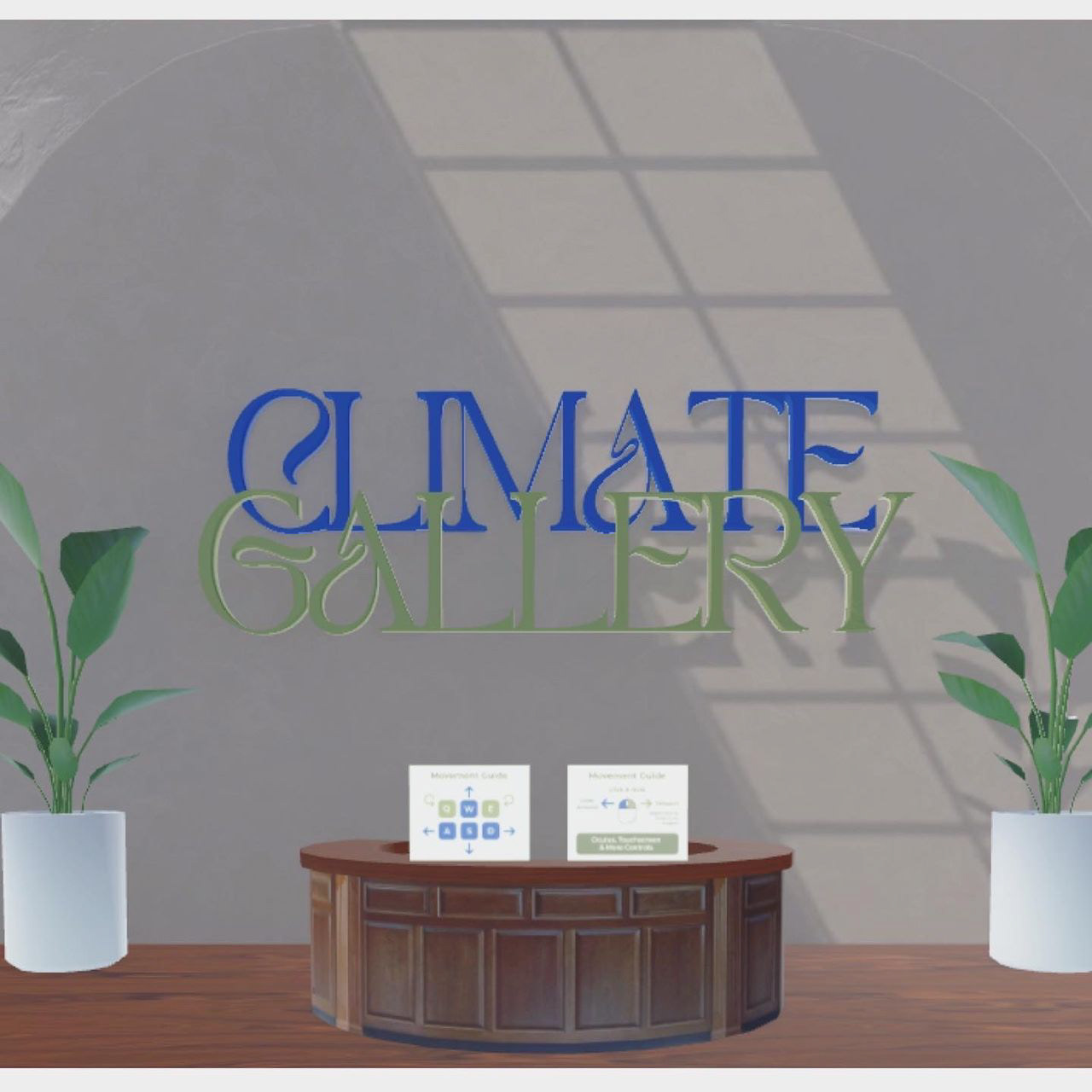 Below showcases The Climate Gallery's branding used throughout promotional material and social posts.
Experience art with a community. Hear directly from the artists.
Art starts a conversation that often goes like this… An artist expresses a perspective. A patron then imposes their life experiences on that piece and comes to a conclusion. Something was learned or reflected on.
The reason galleries are so engaging is because this process can happen beyond the inside of one's mind; it can happen in a community.
To facilitate these conversations, the gallery featured a talk by one of the exhibiting artists on every showing day during the first exhibition. Below is a selection of screenshots from each of the artist's talks and their respective galleries.
Support the arts. Support environmental causes.
The Climate Gallery collaborates with organizations that are on-the-ground fighting fossil fuels, protecting communities from environmental disasters, and advocating for climate justice. 
If you are an organization or organizer that's looking to collaborate or partner with The Climate Gallery, learn about building community in the VR space, get connected to climate artists, or receive an environmental micro-grant, please reach out for opportunities. 

Launch Event
Our first ever launch party took place in San Francisco on November 4th 2022. 
This event included art, interactive exhibits, and more as we launched The Climate Gallery: An Interactive Space for Climate Art!